Sam Farha: Professional Poker Player Profile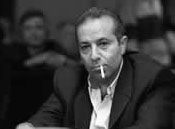 Sam Farha first became famous in the poker circuits when he went head-to-head with Chris Moneymaker, poker's overnight sensation, at the main event of the 2003 World Series of Poker (WSOP). Moneymaker's memorable "Cinderella run" still landed Farha a royal share of $1.3 million for getting second place. Soon after this monumental match, Pokerstars.com, the website where Moneymaker made his first millions, arranged a rematch between Sam Farha and Moneymaker. Farha won.
In 1996, Sam Farha bagged the WSOP Pot-Limit Omaha championship, earning him his first gold bracelet. He prefers to play and win Omaha cash games. Farha works as a spokesman for Harrah's Casino in Las Vegas, Nevada. As of 2004, Farha has won over $1.5 million in tournament poker.
Farha was born in Beirut, Lebanon. As a young man, he showed exceptional talent in games of reflex, especially in the video game Pac-Man, pinball and pool. His talent got him far. He once earned $5,000 playing Pac-Man, and his prowess in pinball landed him on the cover of a Lebanese magazine.
But neither the young Farha nor his father thought it was wise to make a living out of gambling. In 1977, when Farha was in his teens, and civil war had broken out in Lebanon, he moved to the United States to attend the University of Kansas. From there, he graduated with a degree in Business Administration. Then he stayed with his brother in Houston, Texas, and worked several jobs before he finally discovered his skill in poker. By 1990, he had become a regular in Las Vegas. It was around that time when he decided to dedicate himself to pursuing poker as a profession.
Farha is known to be superstitious. Though not a smoker, he has been seen to sport a "lucky cigarette," which he keeps between his lips but never lights. Once, after winning a series of pots, he exclaimed "I'm so hot, my cigarette's going to light!" He has also been known to change unlit cigarettes after a bad beat. His play style is said to be both aggressive and unpredictable. Farha has a talent for intimidating his opponents and getting the upper hand.
Sam Farha is currently residing in Houston, Texas. He is working on a book tentatively titled "Luck is Not Enough," besides which he is also working on a reality TV series about poker, and a video game.
Top Poker Players