Chris Bjorin: Professional Poker Player Profile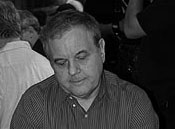 Little is known about Chris Bjorin, a man who prefers to stay under the radar, deftly avoiding interviews, news coverages, and televised events. But this shy player is one of the most influential names in the UK poker scene. Bjorin has been a regular at the World Series of Poker (WSOP) since the early 1990s. He has two bracelets to his name: one for the 1997 $1,500 Pot Limit Omaha event, and one for the 2001 $3,000 No-Limit Hold'em. He won $169,200 and $334,110 for those two events, respectively.
No-Limit Hold'em appears to be his strongest game to date. Chris Bjorin finished in the money in the $10,000 No-Limit Hold'em WSOP Main Event in 1992, 1997 and 2001. His cash finishes now total over 22. As of 2005, his live tournament earnings exceed $1.5 million.
Bjorin has also participated in the World Poker Tour (WPT) but has not yet made a final table there. He has, however, made it to the final table of the Professional Poker Tour (PPT). The PPT is a set of events created by the World Poker Tour parent company WPT Enterprises. The PPT is an invitation-only affair, with each event being a $500,000 freeroll. Approximately 200 players are invited to each event.
In 2002, Bjorin competed at the $5,000 buy-in Hall of Fame Poker Classic championship. There were only 54 players at the tournament, all top-notch. Bjorin's starting table was composed of Erik Seidel, Howard Lederer, Daniel Negreanu, and Phil Hellmuth. 2002 was a good year for Bjorin. He was the only non-American in the top 20 then. He had three wins, all in different games, and he made seven No-Limit Hold'em final tables.
In the 2003 L.A. Poker Classic tour, Bjorin placed 11th in the $10,000 buy-in No-Limit Hold'em event. He won $21,355. There were 136 players, and the prize pool totaled $1,360,000.
Jeff Shulman's 2002 Player of the Year review at the Card Player Magazine cited Chris Bjorin as winning the "Nice Guy" award for the "millionth straight year." A true gentleman, Bjorin is well-known for his flawless etiquette and courtesy at the tables. Bjorin was born in Sweden, but he now resides in London, England.
When not engaged in tournaments, Bjorin makes a living with sports betting. Bjorin has a son, Elon, who is also interested in playing tournament poker. Though Elon wants his father to teach him, Bjorin refuses to spoon-feed his son, insisting that he learn the ropes on his own. Chris Bjorin had promised his son a sailboat if he won a tournament at the 2001 WSOP. That year, the elder Bjorin won his second WSOP bracelet, and the younger Bjorin his boat.
Top Poker Players