David Benyamine: Professional Poker Player Profile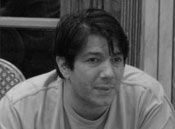 Frenchman David Benyamine is best remembered as the winner of the 2003 Grand Prix de Paris. It was the second season of that World Poker Tour (WPT) event, and Benyamine took home €357,200 for his victory. As of 2005, his total live tournament winnings exceed $700,000.
Another of his more notable WPT achievements is bagging 6th place at the 2nd season of the 2004 L.A. Poker Classic. Though David Benyamine did not place within the top 5, he walked away with $132,355. Benyamine is also the winner of the WPT Battle of Champions II invitational event, where he bested a final table that included poker greats such as Mel "Silver Fox" Judah, "Cowboy" Hoyt Corkins, Phil "Unabomber" Laak and Antonio "The Magician" Esfandiari.
Benyamine may not be frequently visible in tournaments, but he constantly proves himself a worthy opponent at the tables. In a short interview with Cardchat.com, Dave Colclough, British top-ranking Omaha expert, said that he considers David Benyamine and Rob Hollink of the Netherlands to be Europe's top players. The charismatic Canadian player Isabelle Mercier also credits Benyamine (as well as Dave Ulliott) for helping her improve her play.
Benyamine was born on July 5, in Paris. He learned poker at the age of 12. He eventually became a successful billiards player. He was a former tennis star, but back problems ended his career early. Not to be daunted, he persevered in finding a sport where he could make his way to the top, and found his niche in poker.
He considers his relentless drive for self-improvement as one of his most important traits. "It's a lot about knowing yourself," he has been quoted as saying. "I think I don't know myself enough right now."
Benyamine enjoys the reputation of being a "Parisian playboy." He is also no stranger to controversy. According to an article on No-treason.com, he was arrested when he flew into the United States for the 2004 Bellagio/WSOP tournaments. As the rumor goes, this was due to a mix-up on names: David Benyamine shared the same name as a suspected terrorist. There was also some speculation as to why he was entering the United States with so much cash on hand.
As a result of this encounter, the $25,000 that Benyamine had traveled into the United States with was confiscated, and he was deported. Moreover, he was banned from the United States for a year. The truth to these speculations has yet to come out. At any rate, Benyamine returned to play in 2005, for Season Four of the WPT.
David Benyamine currently plays high-stakes cash games on a regular basis. He also enjoys the company of his baby girl. He lives in the south of France.