Eskimo Clark: Professional Poker Player Profile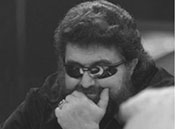 Known as one of the most aggressive players on the poker tables, Paul "Eskimo" Clark is nonetheless a veteran player at 48 years of age. He has three WSOP bracelets to his name. He is listed 62nd on the all-time money. Eskimo Clark has been playing high stakes poker for 15 years. But apart from his professional achievements, little is known about him.
Eskimo Clark gained his nickname because of his looks. He is originally a native of New Orleans, Louisiana, and not Alaska as many have come to believe. His play style, which involves absolute fearlessness, has unnerved many a player, making him an exceptional bluffer. His large size and intimidating appearance add to the effect.
A blogger at the International Poker Federation website recounts his interesting first meeting with Clark. He had walked into a hotel room he shared with a friend, and instead of his friend found a large man sprawled nude on the bed. The large man greeted him as if he were the intruder. Apparently his friend had been duped into loaning the bed. And then the man proceeded to proposition him for poker winnings.
"You give me $1000 to play in a tournament and if I win anything you get half." It seemed more like a threat than a business deal. The blogger bit, and when he found himself at the Omaha tables with Eskimo, he was surprised at the amount of cash the man was able to haul in. Unfortunately, he lost large amounts of money as well. One thing our blogger noted was that while the large man - who introduced himself as Eskimo Clark - was good at winning, he was not very good at holding on to his winnings.
The hand Clark was winning most with was a "wheel" - an ace, then a 2, 3, 4 and 5. He had apparently spotted that most of the other players were sticking with high cards, so he stuck to the lower ones. This gave him a higher chance of getting a good combination of lower cards. His stint got him twenty grand. Two days later he was asking our man for $1000 to enter a tournament again. It was never said if our man got his promised share from his deal with the Eskimo.
When he is not on the tournament circuit, Eskimo Clark can be found at the high stakes poker tables of the Bellagio. As little is known about him, this colorful character probably deserves to have more air time.