Phil Hellmuth: Professional Poker Player Profile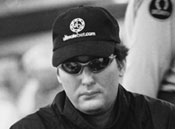 Phil Hellmuth is one of the more eccentric figures in poker. The self-confessed "Poker Brat" has been known to throw tantrums or allow bitter words to escape him after losing a game. He has also been known to brag in front of the camera. But this attitude does nothing to affect his playing ability. Phil Hellmuth has nine World Series of Poker (WSOP) bracelets to his name, all won in Hold'em events. He is also one of the largest earners in poker history, having come away with enormous tournament winnings over the last 10 years.
Other pros can easily say that Phil Hellmuth is one of the most successful players of all time. In fact, Hellmuth has become so established in the circuit that he has become the "face" of poker, appearing in magazine covers and televised tournaments so often that audiences have come to associate the game with his face. Hellmuth is also the spokesman for Ultimate Bet, an online gaming website where he is also a player.
His WSOP accomplishments include first place in the Championship Event in 1989, Limit Holdem in 1992, 1993, and 2003, two No Limit Holdem events in 1993, one in 2001, and one in 2003, and Pot Limit Holdem in 1997. He appeared at the final table at the WSOP and once finished 4th at the Lucky Chances event (season one) and third at Foxwoods (season two).
Hellmuth may have told ESPN that he can win anywhere up to $400 million off the poker table, but he is also a notoriously bad large stakes player. He hates losing with a passion, and yet loses big. Hellmuth has been quoted as saying "The level of frustration involved with going broke is incredible." But no amount of failure discourages Hellmuth from loving the sport. "In what other profession," he asks, "can you be at the top and have so many unsatisfying moments?"
Hellmuth admires great poker players who are also great friends and family people. In his list are Ted Forrest, Annie Duke and Johnny Chan. Hellmuth himself strives to be a good family man, living in Palo Alto, California with his wife Kathy and their two children.
He has written a book called "Play Poker Like the Pros," which received lukewarm reviews. After it was published, he authored other books, among which is the autobiography aptly entitled "Poker Brat." Phil Hellmuth believes that if more people knew about the ins and outs of poker, it could be "bigger than golf." It is the only sport, he says, where people of any age, religion, sex or nationality can compete on equal ground.