Robert Williamson III: Professional Poker Player Profile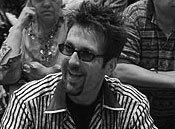 Robert Williamson III is famous in the poker circuit as an Omaha specialist, with numerous notable finishes in World Series of Poker (WSOP) tournaments. For these victories, he became alternatively known as "Mr. Omaha." Williamson has also made two money finishes on the World Poker Tour (WPT). On top of these, he has won tournaments at the Mid-America Classic and the Costa Rica Classic. His total live tournament winnings exceed $1.5 million as of 2005.
Unlike many other top players, Robert Williamson III does not stick to tournaments. Now and again he goes out for a little of what he calls "side action." For this he prefers triple-draw lowball, though he also plays mixed games in the range of $100-$200 up to $400-$800. He also finds the pot-limit $50-$100 enjoyable.
Williamson, a native of Texas, was born on November 7, 1970. He and his three sisters were all born and raised in Houston. He claims he has been around gambling all his life, since he started watching his father play poker with friends at the age of 5. He was made to run for drinks and sandwiches for the players. He himself never tried playing in earnest until he was around 10 or 11. He says his father was his main influence in poker, but the other player he learned the most from was Russ Hamilton.
His academic achievements are quite notable. Williamson got a B.B.A. degree in finance from Angelo State University in San Angelo, Texas, then he pursued a second B.B.A. in real estate. A skilled smooth-talker, he has previously worked as a real estate developer, a restaurateur, and a consultant. He once underwent a bariatric surgery and lost over 200 pounds, but this did nothing to diminish his vivacity and love for a good game. Williamson hopes he can win many more WSOP bracelets. He likes playing the WPT and thinks it is "the best thing that ever happened to poker."
Robert Williamson III admits that he most admires players with good table demeanor, such as Hamilton, Mark Gregorich and Berry Johnston. He places great importance on respect, and thinks that if there's anything that needs changing in the poker world, it's how everyone should treat dealers and their fellow players with respect. This would draw more recreational players into the sport, he says as someone who plays primarily for fun and not money.