John Juanda: Professional Poker Player Profile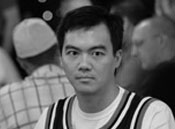 Stone-faced John Juanda strode into the world of poker with absolute confidence, and quietly took over. Juanda was Champion of the Year in 2002, when he won 3 World Series of Poker titles, and a World Poker Open Championship title. In 2004 John Juanda won the inaugural Professional Poker Tour event. He was bestowed two "Best All-Around Player Awards" in the last few years, and he has won 11 major tournaments.
On July 2005 John Juanda walked away with a $274,090 award for the WSOP Championship Event, where the buy-in was worth $10,000. There were 5619 entrants at that event. Juanda went into mostly hold'em events that year, though he also entered the pot-limit Omaha with re-buys and emerged with $11,565, out of a total of 212 entrants. His tournament earnings as of 2005 exceed $4,600,000.
Little is known about this enigmatic player, apart from his appearance causes his potential opponents to suddenly become apprehensive, and to put up their guard against bluffs. Juanda's cool, unflappable exterior is almost a trademark, a barrier against anyone who wants to read into his moves. Oddly enough, he says if there is one thing he wishes to change in the current poker scene, it is how poker rooms are intimidating to newcomers! To his credit, he also wishes there was more corporate sponsorship for poker events. His sharply Asian features never fails to accentuate the self-confident air he consciously projects.
Juanda is American by citizenship, though he was born and raised in Indonesia. He was born on July 8, 1971. He came to the United States in 1990, when he enrolled at the Oklahoma State University. From there he moved on to get his MBA from the University of Seattle. He only started playing poker in 1996. In keeping with the tradition of poker geniuses who were once athletic champs, he was once a high school track and field champion, winning 200-meter sprints and 5000-meter races.
Juanda has said that his favorite games are pot-limit and no-limit hold'em. He worked briefly as a door-to-door bible salesman. Juanda has a profound interest in medicine and he says he would be pursuing it as a profession, if he were not so captivated with poker. John Juanda lists Daniel Negreanu, Allan Cunningham, Phil Ivey, Randy Holland, and Erik Seidel as his heroes -- not just as poker players but also as role models. He currently lives in California.
Top Poker Players