Daniel Negreanu: Professional Poker Player Profile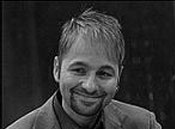 Daniel Negreanu defies the conventional definition of "poker faced." A vibrant, lively person, he could always be found smiling. But don't let his appearance fool you - this man is the 2004 Player of the Year, according to CardPlayer Magazine, ESPN and the World Poker Tour (WPT). A leading voice of the younger generation of poker players, Negreanu is one of the most visible personalities in the poker scene.
"Kid Poker," as he is more popularly known, specializes in the ability to "read" his opponents' moves. Daniel Negreanu says his favorite event is the Pot-Limit Hold'em. In 2004 alone, his total winnings topped $4.4 million dollars. It was in this year that he made it to 11 final tournament tables, won two World Poker Tour events, and gained his third World Series of Poker bracelet in Limit Hold'em.
Negreanu was born July 26, 1974. His parents moved to Toronto, Canada from Romania in 1967. In pursuit of his dream to become a professional poker player, Daniel, the younger of their two sons, moved to Las Vegas when he was 21. "The Strip" gave him the leverage to make it big. In 1998, at the age of 23, he received the prestigious title of "youngest World Series of Poker (WSOP) champion," and he held on to this title until 2004.
Negreanu is known for his fervor for upholding poker as a sport. He has declared that he will do whatever he can to make people see poker as a "healthy profession, even if it's not traditional." While Negreanu participates in http://www.pokerschoolonline.com, he also runs an online gaming website at http://www.fullcontactpoker.com. The former website, where he works as a tutor, caters to some celebrity enthusiasts, such as Tobey Maguire, who has enjoyed some luck in poker tournaments. The latter website, however, features his controversial blog. Besides his sunny personality, Negreanu is also known for alcohol abuse - a reputation he has been struggling against. And on his blog, he makes some comments regarding some things he was accused of having done while under the influence.
Negreanu is generous with praise when he feels other poker players deserve it. He has cited Jennifer Harman and Phil Ivey as two of the players he admires. Negreanu has also volunteered to foot the $80,000 bill for his friend Ivey, whom he was staking, when Ivey was interned in a rehabilitation center for drug abuse. Daniel Negreanu pronounces his last name "Ne-grah-new," but is not bothered by other pronunciations. He is currently residing in Las Vegas with his wife.
Top Poker Players