Scotty Nguyen: Professional Poker Player Profile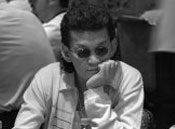 Thuan "Scotty" Nguyen is easily distinguished in a room full of people. This is the man at the poker tables who laughs a lot, cracks jokes and often says "baby" at the end of his sentences. He is one of the most active players in the circuit, having finished in the money for more than 100 events from 2000 to 2004. His total live tournament winnings exceed $4,795,000 as of 2005.
Scotty Nguyen's play style is energetic and aggressive. He always plays big, and plays to win. He has made it to the final table so many times, he says, that he doesn't know what to do. He jokes that he was born with one hand deformed into a fist; when the doctors were finally able to unfurl his hand there was a little deck of cards in it. In-game, he keeps up a running commentary that throws his opponents off balance. Nguyen's showmanship at the tables has yet to be surpassed by any other player. He doesn't stop playing until "Scotty wins!"
"That's poker baby," is a famous Nguyen catchphrase, used by players to describe a bad beat. But to date, the most often quoted Nguyen catchphrase is the one he delivered at the 1998 World Series of Poker (WSOP), just before dealing Kevin McBride the deathblow at the main event: "You call and it's all over, baby." McBride called and laid down his full house. Nguyen matched it with an even higher full house and carried off the WSOP main event title, along with the $1 million dollar prize.
In 1979 Scotty Nguyen came to the United States from South Vietnam. He was 14 years old. After a year in Chicago he moved to California to stay with another host family, and it was there that he was introduced to poker. He frequently goes home to Vietnam to spend time with relatives, and he often sends money home to his extended family. He has built a house in Vietnam for his mother.
He doesn't forget to live big in the States. One of Nguyen's passions is buying himself expensive clothing and jewelry. The gold chains and rings he wears have become a trademark for him, as well as his flashy wardrobe. In 1999 this colorful personality landed a role in "The Big Blind," a relatively unknown poker-themed movie. Always up for a bit of flash and fire, Scotty Nguyen looks forward to a bright future in the gaming circuit.