T.J. Cloutier: Professional Poker Player Profile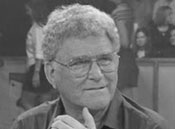 With around 50 years of poker experience under his belt, T.J. Cloutier enjoys the prestige of being the biggest earner in the poker world. He has taken home anywhere between $7 and $8 million in tournament winnings. He is also the only player to have won events in all three types of Omaha at the World Series of Poker (WSOP). A Texas Hold'em starting hand, the Jack-9 of clubs, is called the "T.J. Cloutier" because Cloutier had flopped three flushes in one year with it.
In spite of his stellar accomplishments, T.J. Cloutier has never won a main WSOP event. However, he has placed four times in the top five, including two second-place finishes. He has six bracelets to his name. He has also made the final table twice on the World Poker Tour (WPT), at the Reno Hilton and the Bicycle Casino.
He is well-respected among his colleagues, and his many years of poker experience makes him a true authority on the sport. Cloutier has co-authored four books on poker with Tom McEvoy: "Championship Tournament Practice Hands," "Championship Holdem," "Championship Omaha," and "Championship No-Limit and Pot Limit Hold'em." He also writes for Card Player Magazine.
Cloutier was an all-around athlete. He attended the University of California at Berkeley on a football and basketball scholarship. However, his mother fell ill and he had to stop school because of the financial strain. Soon after this he was drafted into the Army, and this was where he learned how to play poker. He didn't play professionally immediately after leaving the Army; he played in the Canadian Football League. A knee injury cut his football career short.
Cloutier went home and started a business called "Best Quality Foods." He had to shut it down when an outside partner was found committing embezzlement. Cloutier then went to work as a derrick man, and played poker in his spare time. When he realized that he was making more money playing poker than working at the oil rigs, he quit his job and pursued poker as a profession.
This venerable veteran believes the one most important thing that poker players have to do is develop their observation skills. Knowing one's enemies is the key to victory. "If you and I had played poker together five years ago," he has said, "I wouldn't necessarily recall your name today, but I would remember your face and how you played your hands in different spots, your tendencies." Father to six children, and loving husband to his wife of over 20 years, T.J. Cloutier remains a globetrotter, flying off several times a year to join poker tournaments. He and his wife Joy have made their home in Texas.