Johnny Chan: Professional Poker Player Profile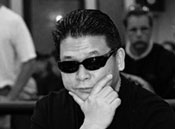 They call him "Genghis Chan" on the circuit. Johnny Chan, the Asian poker powerhouse, has acquired many names in his time. He has also been dubbed the "Orient Express" by Bob Stupak, founder of the famous Vegas World. Many Asian players dream of being the "Orient Express II." Chan has set the dream alight for other young Asian aspirants to make it in the world of poker.
Johnny Chan enjoyed a three-year winning streak from 1987-89, but has not risen to the top since then. His second consecutive win against New York's Erik Seidel has been noted as phenomenal. He rose above the loss of a $1.2 million pot and still emerged the victor with over $700,000 to his name. Chan says that nowadays, it is "so incredibly difficult" to become a star in the poker world, but nonetheless he flaunts staggering financial success. He has won almost $2 million in the World Series alone, and that is only one of the five major tournaments held annually at Las Vegas and Southern California.
Before Chan was a poker player, he was helping his parents run a restaurant in the 70's. Behind the restaurant was a poker game, as there was also a poker game behind other nearby establishments, like the pool hall and the gas station. Chan used to play chess, but he claims there's no money in it; like pool, no one will play you once they find out you have exceptional talent. Chan attributes his talent for making money to his philosophy that "life's too short" to be frugal; he earns big, and spends big as well.
The trademark attitude of the original "Orient Express" is self-confidence that borders on arrogance. But he backs it up with the hard life he had to lead during his first years as a professional gambler. When he came to the United States he was a young man who spoke no English, and continually ran up debt, but hard work and perseverance got him to the point he is in now. Extravagant lifestyle notwithstanding, Chan has said in an interview that he is saving up to start his own casino someday.
Johnny Chan's fame has been immortalized in the film "Rounders", starring Matt Damon and Edward Norton, where he played himself as the best poker player in the world. "Rounders" is about a young man (Damon) with a natural talent for gamesmanship, who applies his talent the big leagues in order to save a friend (Norton) from a large gambling debt. Toward the end of the film, Damon meets up with Chan, the champion he must beat in order to win the "World Series of Gambling." The movie shows actual footage of his extraordinary match with Seidel.