Phil "Unabomber" Laak: Professional Poker Player Profile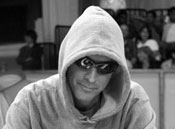 Phil Laak is also known as the "Unabomber", a nickname he got from constantly wearing shades and a hooded shirt to tournaments. The trademark shirt was given to him by Gus "The Great Dane" Hansen, another great poker player. During large hands, Phil Laak draws the hood over his head and pulls the drawstrings closed to hide his face.
Phil Laak's quirky personality has made him the darling of the media. His antics have elicited both delight and scorn from spectators and other players. When he went up against Johnny Chan in the WSOP, for example, he took a break to do sit-ups on the floor. Laak also tends to chatter at the table. Nonetheless, he exhibits skill in the sport. Laak won the World Poker Tour (WPT) Invitational in February 2004. He has made two other WPT final tables since - 6th place in both the season 2 Battle of Champions and the 2005 Five Diamond World Poker Classic. Laak's total live tournament winnings exceed $500,000 as of 2005.
"The Unabomber" was born in 1972, in Ireland. He was raised in Wellesley, Massachusetts. He recalls playing poker with his family at a camping trip at the age of seven, and seeing how winning at a gamble gave one a sense of power. Laak got his degree in mechanical engineering from the University of Massachusetts at Amherst. He worked as an engineer, a repo man and a real estate investor, before he got into open poker games in California.
For several years Laak lived in the Bay Area with another well known player, Antonio Esfandiari. They traveled together 99% of the time to play tournaments. In the 2004 WPT invitational, Esfandiari took sixth place while his roommate got first.
Laak met his girlfriend, actress Jennifer Tilly, at the tournament tables. Tilly was fairly new to the sport then. She joked that she acquired better poker skills with the help of Laak, "through osmosis." She has been given the nickname "The Unabombshell." Tilly won a WSOP bracelet in 2005, in the $1,000 buy-in Ladies No-Limit Hold'em championship. On the same day she won her bracelet, which she declares is "better than an Oscar," her boyfriend finished second to Johnny Chan in the $2,500-pot Limit Hold'em event.
The freedom to enjoy himself is high on Laak's life priorities. He believes that "living well is all about optimizing, and achieving a balance between fun, freedom and fulfillment." Phil Laak only considers himself a "semi-professional" poker player. He currently resides in Los Angeles and San Francisco.