Curt Kohlberg: Professional Poker Player Profile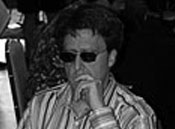 Curt Kohlberg surfaced on the radar of the poker scene when he placed 5th at the €10,000 Grand Prix de Paris, a World Poker Tour (WPT) event in July, 2005. Prior to this, he has enjoyed a number of other tournament successes. He has participated in a few World Series of Poker (WSOP) events but has not won a bracelet. It's only a matter of time before this strategic player bags that goal.
Curt Kohlberg's play style is said to be aggressive. He has said that his play style has become more careful and conservative over the years, but the aggressive nature of his play has not vanished. Like many other players with mathematical minds, Kohlberg has come up with his own analytical "Game Theory" approach to poker. "There are probably 17 or 18 situations that I'm going to make a play on if everything lines up properly," he once said in an interview with UMass Magazine. "Otherwise, I'm going to play a basic game that focuses on playing fairly tight, nothing tricky, just capitalizing on others' mistakes. That's how I play."
Kohlberg started playing poker for fun as a freshman at the University of Massachusetts Amherst. He excelled especially in five-card draw and seven-card stud. At the same time, he kept a high grade-point average in the Isenberg School of Management, won the school intramural racquetball and paddleball championships, maintained a sports column at the Daily Collegian and started his own business selling T-shirts at rock concerts.
After graduation, he was accepted to the Sloan School of Management at the Massachusetts Institute of Technology (MIT). The demands of graduate school prevented him from playing cards as often as he wished. After school he was recruited into Wall Street and later, a few large banks, where he found his niche.
When Kohlberg and his wife separated, she took their young son with her. Kohlberg buried himself in his work, and never lost sight of his professional goals. Life picked up for him soon enough, when he met and married Allegra Manacher, a colleague at Amherst.
Poker only came back into Kohlberg's life in 1997. At the prompting of his wife, he entered a $500 buy-in tournament for seven-card stud at Foxwoods. He won the tournament and returned three days later to join the World Poker final event, and was again victorious. He took home $130,000 from the Connecticut Casino.
Curt Kohlberg claims he has no interest in becoming a professional poker player, but admits that gaining the respect of other top players is the greatest thrill. He and his wife have two daughters, and are currently living together in Weston, along with Kohlberg's son from his previous marriage.