Allen Cunningham | Professional Poker Player Profile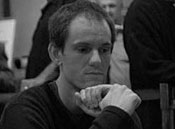 Allen Cunningham was born in Riverside, California in 1977. He went to college at the UCLA, aiming to get an engineering degree. It was in college that he started playing poker in earnest. Winning at local Indian casinos inspired him to pursue gaming as a profession, so he quit school in order to play poker full-time. He was only 21 when he joined the professional tournament circuit, and the startup wasn't easy.
At age 22 however Allen Cunningham started enjoying his first breaks. He won "Best All Around Player" at the Bicycle Casino's Legend of Poker, and it seems things went smoothly from there. His performance only became better each year. Recently, he got his biggest break: the championship title for the 2005 World Series of Poker (WSOP). His game was the No-Limit Hold'em, which came with the substantial entry fee of $1,500.
Allen Cunningham has won three WSOP bracelets in total, the first two having been won in the 2001 Seven Card Stud Event and the 2002 Deuce to Seven No Limit Event. He has also made it to the final table of the WSOP three times. In 2004 he won the Bellagio Five-Star World Poker Championship, at the $5000 No Limit Hold'em Event.
While not the most famous pro player on the circuit, Allen Cunningham is nonetheless quite liked among other poker players. His colleague-friends, among whom are Daniel Negreanu and John Juanda, have voted him "Best Player under 35". It is speculated that he rather enjoys the anonymity, as it is known that he declined a request by Toyota to appear in a TV show as ESPN 2005 Toyota WSOP's player of the year. Quiet and likeable, he establishes his foothold firmly in the prefessional world poker scene.
Cunningham has been playing professionally for over 10 years. His play style is not said to be aggressive, but instead controlled and very calculated. He takes a solid, analytical approach to all of his games, making him a real threat to more flamboyant and instinct-driven opponents. He believes that the most important skill a poker player could have is control: it is imperative not to get confused or unfocused.
Cunningham plays in cash games if he is not playing in tournaments. His games are No-Limit Hold'em, $300-$600 Mixed Games and Pot-Limit Omaha. He plays online for the Full Tilt Poker team, being listed on the site as a "Friend of FTP."