Dave "Devilfish" Ulliott: Professional Poker Player Profile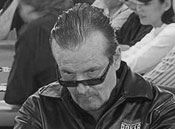 Dave "Devilfish" Ulliott is one of the most notable personalities in the poker scene. He has come to be known for his suave, polished look and self-confident stance. His flair comes with a touch of arrogance, although, as we say, "it's not bragging if you can back it up." Ulliott has won over $1.3 million since 2003 alone, and as of 2005 has taken home over $3 million in tournament play.
Dave "Devilfish" Ulliott is perhaps the most well-known British player in the circuit. He was ranked #9 in PokerPlayer Magazine's Top 10 Poker Legends List, on the publication's inaugural edition in October 2005. He got the moniker "Devilfish" at his first major tournament in 1997, after beating Men "The Master" Nguyen. The Devilfish is an exotic dish that is poisonous unless properly prepared. Colleagues sometimes use the more affectionate and shorter nickname "'Fish". Prior to this he was called "Dave the Clock" because he once used a grandfather clock as a buy-in to a game in England.
Some would argue that Ulliott is the best pot-limit Omaha hold'em player in the world. In 1997 he bagged the World Series of Poker (WSOP) title for this event, and subsequently he placed second five times. He has finished in the money more than 35 times since 1997. He was able to win his biggest prize, almost $600,000, at the Jack Binion World Poker Open stop on the World Poker Tour, a no limit Texas hold 'em tournament.
Devilfish has been playing poker since he was sixteen years old. The son of a truck driver, he went through a number of jobs, including jeweler and pawnbroker, while he played cash games on the side. He won so frequently that by the time the 1990s rolled around, nobody wanted to play with him. So he moved to Las Vegas, Nevada, ready for the big leagues.
Dave "Devilfish" Ulliott lists Johnny "Oriental Express" Chan, Phil Hellmuth Jr., Erik Seidel, Howard "The Professor" Lederer and Annie Duke as among the poker players he admires. Among European players, he has expressed admiration for Ram "Crazy Horse" Vaswani and Marcel Luske. Ulliott has spoken out against smoking many times during tournaments, though he has also said that he likes his few drinks of beer. The Devilfish is very fond of music. He plays the piano and the guitar, and is close friends with Fine Young Cannibals vocalist Roland Gift. He currently lives with his wife and seven children in Hull, England. He runs his own gaming website at Devilfishpoker.com.
Top Poker Players