Chris Moneymaker: Professional Poker Player Profile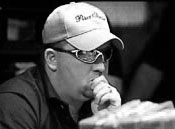 If ever there was a rags-to-riches story in the poker scene, it would have to be Chris Moneymaker's. This former underdog accountant once tried his luck and put down $40 at a satellite tournament in online poker site PokerStars, and ended up with $2.5 million. This victory gained him entry into the 2003 World Series of Poker (WSOP) tournament, where he won his first title.
The 2003 WSOP was Moneymaker's first live tournament, and he was almost unable to attend it. Upon gaining a spot for the tournament, he realized he couldn't scrape together the money for the trip and the hotel stay in Vegas. So his father and a friend, David Gamble, put up some money in exchange for a portion of his winnings. He did not let them down. At the 2003 WSOP, Chris made a number of memorable plays, among which was his heads-up against Sam Farha. On the river Moneymaker bluffed all-in with King high. Farha folded a pair of nines. In the final play of the No-Limit Texas Hold'em event, Moneymaker's full house, fives full of fours, defeated Farha's top pair.
Some poker experts may say that Moneymaker relies on luck, but he is steadily proving them wrong. He has played at the World Poker Tour (WPT) and come off in second place with the $200,000 prize. His play style has been described as aggressive. To date he still plays in PokerStars with the screen name of Money800.
Moneymaker is Chris' real surname. Friends call him by the nickname "Money," and shouts of "Go Money!" echo through the poker room when he is at the table. He says he began playing poker in earnest only after watching the movie "Rounders," starring Matt Damon, Edward Norton and poker great Johnny Chan. Moneymaker is originally from Spring Hills, Tennessee. Now he lives in Nashville with his wife Christina and their baby girl.
Chris Moneymaker has quit his accountant job to become a celebrity spokesman for Series owner Harrah's Entertainment, as well as PokerStars. He quite literally became a celebrity overnight, but he has remained quite humble. He has said in an interview that he does not want to be the best poker player in the world, he only wishes to provide for his family. He is also a dedicated family man and a loving father, and he plans to put his daughter through college with his winnings. He has donated $25,000 to cancer research. His life is detailed in his autobiography, "Moneymaker," published in March 2005.
Top Poker Players