David Plastik: Professional Poker Player Profile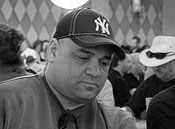 Little is known about David Plastik, who has stayed under the radar of the professional poker circuit for some time. When the river hit the board of the final hand of the 2005 World Series of Poker (WSOP) Five Diamonds event #7, Tournament Director Jack McClelland called out the name of the winner, announcing him as "David Plastik, a player that hasn't won a tournament since 1947." David had won the top prize of $212,730, the gold title bracelet and a $25,000 + $500 buy-in seat in the 2006 WPT Championship at the Bellagio on April 2006. It looks like Plastik is going to have to come out of hiding after this big win.
David Plastik has a strong competitive streak, which becomes manifest in his emotional outbursts in-game. He is unable to restrain his excitement when he wins, or contain his disappointment when he loses. "I'm the unluckiest poker player in the world," he was heard to have said during the 2002 WSOP, after losing to Barry Greenstein. This is of course untrue. Plastik had been winning smaller games all that year. Prior to this he had a good number of major wins, such as the $500 Limit Holdem Taj Mahal in 1999, the $1000 H.O.S.E. Legends of Poker in 2000, and the Harrahs $1500 No Limit 2000, in which he placed second.
Plastik was born in Queens, New Jersey, in 1964. He graduated from the University of Hartford before life's currents washed him into Las Vegas, Nevada. Plastik worked as a freelance photographer during his teenage years, trailing different rock and roll bands and then selling their pictures to magazines. Then he moved to Los Angeles and worked as a sales rep for his father's business. That was also when he discovered his competitive nature and started playing poker. He did well on his games at the local Commerce Casino, and the future was bright.
He started playing poker professionally at around 1995. Around 1997, Plastik began playing in tournaments. His career poker winnings came up to around $580,000, with nearly $100,000 coming in the first month he took to traveling around to various tournaments. It seemed that Plastik had been slowly building himself up for this recent big win at the Five Diamonds event.
Besides poker, David Plastik enjoys music and sports. His favorite band is the Rolling Stones. He lists his most admired players as Scotty Nguyen, Allen Cunningham, and Chris "Jesus" Ferguson. If he could change anything about poker, Plastik says he would like to make the sport more popular, so it would get more national coverage, publicity and sponsorships.
Top Poker Players