Alan Betson: Professional Poker Player Profile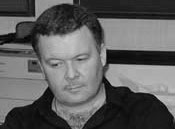 If there's anything Alan Betson could be renowned for besides his poker skills, it's his wit. Padraig Parkinson, writer for Card Player Magazine Europe, has said that Betson "has probably said five of the 10 funniest things I've ever heard at a poker table." In an article in Card Player, Parkinson recounts an incident where Betson matched wits with a taxi driver in Las Vegas... a game that ended in a very close draw.
The popularity of Alan Betson's anecdotes is proven by how much in demand they are. Remarkably, Betson is also known for being funniest when things are at their bleakest, especially at the poker table.
Scott Gray, 4th in the World Series of Poker (WSOP) Main Event in 2002, has said in an interview with David Lloyd of Sportinglife.com that if he were to host the liveliest poker game known to man, he would invite Alan Betson for the one-liners. He would also invite "Padraig for the craic... Kevin O'Connell to buy the drink, John Duthie to provide the TV coverage, Mike Sexton as the American, Alan Vinson for the cockney humor, Devilfish to throw the party (someone has to lose) but he's not allowed to take the guitar, and Jesse May to write it all down!"
But while his wit makes him a smashing entertainer, his poker skills make him a vicious opponent. In 2001, the Irish-born Betson earned the title of "European Texas Hold'em Champion for 2001" by winning the championship event at the Euro Finals of Poker (EFOP) at the Aviation Club in Paris. He was also awarded the $140,000 grand prize.
Recently, in November 2005, Betson placed 2nd in the €800 No-Limit Hold'em event at the Holland Casino in Amsterdam. Betson was able to beat 840 other players at the event, but was beaten at the top spot by Lebanese talent Abdul Khodr. It seemed like a win for Betson at first: he had Khodr all in with KJ vs. J8, but an eight appeared on the turn. Nonetheless, this was a big money finish for Betson, as he took home €71,680.
Earlier, in March 2005, Betson placed 2nd also in the €2,000 No Limit Hold'em event of the Irish Open. The affair was held in Citywest Hotel, Dublin. It was yet another cash win, as Betson finished with €71,500.
No matter what poker event he attends, Alan Betson will always be the man of the hour: the smart guy with the quips, and the player to be watched. The bets are on for Alan Betson!