Carlos Mortensen: Professional Poker Player Profile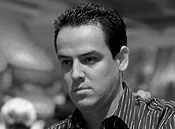 Carlos Mortensen enjoys the prestige of being thought of as one of the handsomest poker players alive. This half-Spanish, half-Danish player sports an intense yet suave look. But besides handsome, poker enthusiasts think of him as an expert bluffer. His play style is frequently loose and cool, but Mortensen himself says he mixes up his style in order to match his opponents'.
The poker heartthrob has been called "El Matador." Carlos Mortensen is best known for his performance in the 2001 World Series of Poker (WSOP) main event, where he won $1.5 million. His opponent was Dewey Tomko, a former kindergarten teacher with over 35 years of poker experience. Mortensen also won $1 million at the Doyle Brunson North American Poker Championship in 2004. He has collected two WSOP bracelets and over $3.6 million in live tournament winnings as of 2005. Mortensen has also placed in the World Heads-Up Poker Championship, and was a semi-finalist in the Poker Superstars Invitational Tournament's second season.
Mortensen was born in Ambato, Ecuador, on April 13, 1972, to a Spanish mother and Danish father. He has two brothers and three sisters. His family had farms in Ecuador, but they moved to Spain when he was 15 years old. Notably, poker wasn't popular in Spain, and was even illegal. But it was at around this time that Mortensen began to play.
Young Mortensen used to play chess at a private club in Spain, where he worked as a bartender. He came to the club one day and spotted people playing Texas hold'em. Mortensen could still remember the date: April 15, 1997. Since he was still waiting for his wife, he sat down to play, and promptly lost the equivalent of $100. The loss troubled him, but he came back to play the next evening. And he won. That was when his winner's colors showed; he kept on winning for four straight days.
After this exhilarating experience, Mortensen decided to pursue poker full-time as a profession. When he came to America, he did not know any English, but his observant nature made it easier for him to adjust. He prides himself in having acquired his skills more through experience than through reading books on poker. His wife, Cecilia Reyes, also plays poker. They have been together since January 1990. Carlos Mortensen travels frequently between the US and Europe to play in tournaments, sometimes with his wife by his side.