Diego Cordovez: Professional Poker Player Profile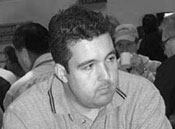 Diego Cordovez has been nicknamed the "D Train" for his aggressive but steady, unstoppable play. Cordovez beat 395 opponents to win his first bracelet from the 2000 World Series of Poker (WSOP). This was at the $2,000 buy-in No Limit Hold'em event, from which he took home $293,040.
In 2002 Diego Cordovez ranked sixth among U.S. poker tournament players. That same year, he almost got two more bracelets: he had 3rd place finish in the No-Limit Hold'em event and a 2nd place finish in the S.H.O.E. event. He collected around $62,000 in prize money. Later that year, he took first place in the 2002 L.A. Poker Classic Limit Hold'em event, and took home $570,000. In 2003 he bagged 2nd place in the tenth event of the year's WSOP, the Half Hold'em/Half Seven-Card Stud. The first place winner was Chris "Jesus" Ferguson, another big winner in the poker scene.
Cordovez was born in 1965 in New York. He started playing poker in the first grade. His primary school teacher used poker to encourage the children to learn and improve their basic math skills. He remained an avid fan of poker, and read every book he could on the sport before venturing into serious play in 1991.
Cordovez is the CEO of Advanced Global Applications: a company that builds online poker sites. As a successful businessman, he claims that playing poker professionally is too much of a strain for him. Nonetheless he continues to enjoy the game and to study it rigorously. To this day he plays poker 20 hours a week, live and online, varying his games in order not to get bored.
"Really watch everything that is going on in a game," Cordovez had said by way of advice. "Concentrate all the time ... and you'll do better than more talented players who are distracted." Cordovez contributed several articles to Card Player Magazine, especially in 2002. He has related card playing with business management in some of his articles, as he sees similar strategies between the two different venues. For example, he once said that "the winning player--in the card room and in the board room--is the one who possesses emotional intelligence, who understands the motivations of fellow players above all else."
In one of his articles, Diego Cordovez once described himself as a "bubble boy" - a player who finished once out of the money. He now lives in Palo Alto, California.