Men "The Master" Nguyen: Professional Poker Player Profile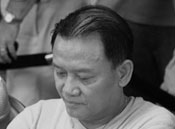 Men Nguyen is one of the most influential people in the world of poker. Nguyen stands out because of his charismatic personality, his openness and optimism. One of his students began to call him "The Master," and his willingness to teach newer players and to learn through interaction have helped this name stick. Another good reason to call him "Master" is that he is objectively one of the best players in the circuit.
Men "The Master" Nguyen has been playing for over 17 years, and he has won more than 75 tournaments. Though he has never won a main World Series of Poker (WSOP) event, he has to his name six WSOP bracelets and over $4.1 million in tournament earnings. Should he win a million-dollar tournament, Nguyen says, he might build another school in Vietnam, or build more houses for the homeless. He has already built a kindergarten in his homeland, and he regularly sends money to children there - some of whom, he says, are already like his godchildren.
In spite of his cheerful demeanor, Nguyen has not had an easy life. He was born and raised in Vietnam, at a time when anti-communist sentiments faced dire persecution. He quit school at 13 to help support his family by driving buses. In early 1978, he and 87 compatriots boarded a boat bound for Pulau Besar in Malaysia, illegally making their way out of Vietnam. He received political asylum from the United States later that year.
He first worked as a machinist, while studying English and becoming accustomed to his new home. In 1984 he boarded a junket to Las Vegas, Nevada and played 7-stud poker for the first time. He lost a large amount of money, earning himself the nickname "Money Machine," until he got the hang of the game and started his winning streak. In 1987, one year after he became an American citizen, he won his first poker tournament. "Money Machine" no longer, he quit his job and focused his energies on the game.
Men "The Master" Nguyen may not have won a single WSOP championship, but his final table appearances make up a long list. In 1997, he was named Player of the Year. In 2002 he was number five on Card Player's list of the world's most successful poker players. In 2001, he was listed number one. Nguyen currently resides in Bell Gardens, California, with his wife Tuyet and their child. He continues to inspire and educate newcomers in the promising and exciting world of gamesmanship.
Top Poker Players