Howard Lederer: Professional Poker Player Profile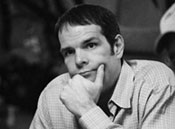 Howard Lederer, also known as the "Professor," stands out in the poker scene because of his even temper and mild-mannered approach to the game. At the poker table Howard Lederer is calm, steady, remarkably self-assured. His long history of wins proves that his analytical play style is effective enough for champions.
Howard Lederer is also known for his vicious competitive streak. He plays mostly in large tournaments and high stakes games. He has won two World Series of Poker (WSOP) bracelets and two World Poker Tour (WPT) titles as of 2004. His titles include first in the 2003 Party Poker Million Limit Hold'em, first at the Bellagio's World Poker Classic No Limit Holdem and third at the Bellagio for Omaha HiLo. Besides playing in tournaments, Lederer also works on poker-related projects. He has also made an instructional poker video called "Secrets of No Limit Hold'em." He runs the Howard Lederer Poker Fantasy Camp. He also co-hosts a tournament poker show for Fox.
Lederer came from a family of scholars and gamesmen. His father, Richard Lederer, a writer and linguist, had taught at St. Paul's School in New Hampshire. Howard's sister, Katy Lederer, wrote a book about the Lederer family, titled "Poker Face: A Girlhood Among Gamblers." As it happens, Lederer's first love was chess. After high school he moved to New York in order to attend Columbia University. But he had dropped out of college, intending to become a professional chess player. Somehow, he found his way to the poker tables, and after a run of beginners' bad luck, he quickly evolved into the formidable player that he is today.
However calm he seems to be at the boards, Lederer has shown that he, too, can be indignant. He seems especially annoyed with players who dispense insults without a care. This makes him not unlike a scholarly gentleman expressing disdain for the rough and uncouth, and unfortunately, this makes him vulnerable to controversy. Lederer has publicly criticized Daniel Negreanu for making inappropriate comments about Annie Duke. He also refused to shake hands with infamous heckler Tony Guoga at the end of the 2003 World Poker Tour (WPT) Grand Prix de Paris.
The Professor appears to lead a spartan, scholarly lifestyle, though the fun-loving gambler in him sometimes wins over. Though a long-time vegetarian, he once accepted a $10,000 proposition bet that he could eat a cheeseburger. Howard Lederer is living with his wife Suzie, his son Matti, and their three dogs in Las Vegas, Nevada.
Top Poker Players