Hoyt Corkins: Professional Poker Player Profile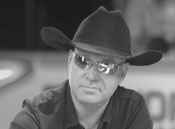 Hoyt Corkins is known as one of the most soft-spoken and well-mannered players in the circuit - and also among the more aggressive. Besides the popular moniker "Nightmare," he has garnered quite a few nicknames in his time; for example, he was called "Mr. All-In" by the famous "Poker Brat" Phil Hellmuth, "Cowboy" because of the cowboy hat he always wore to the tables, and "The Westworld Cowboy" by actor and World Poker Tour (WPT) commentator Vince Van Patten. "Westworld" is a science fiction Western movie released in 1973.
Hoyt Corkins took the World Series of Poker (WSOP) Championship in 1992 in the Pot-Limit Omaha Event. This win gave him his first bracelet and $96,000.
After a long hiatus, he bagged a major victory in the World Poker Tour (WPT) event at Foxwoods in 2003, where he took home $1,089,200. He also finished second to Gus Hansen in the WPT at PokerStars.com's 2004 Caribbean Adventure. The affair earned him $290,065, though Corkins admitted he was sick when he attended this event. These are only a few of his notable finishes in various tournaments.
The moniker "Mr. All-In" was not quite a compliment. Hellmuth gave Corkins this when he finished third at the 2003 WPT. When Corkins was interviewed by Shirley Rosario of Poker-babes.com, Corkins only had good things to say of Hellmuth. He even added that Hellmuth deserved to finish higher than third place.
Corkins was born in the more rural parts of Glenwood, Alabama. He started playing poker at the age of 19, when he started getting lessons from his father, who hosted weekly cash games. He observed his father's play and how the other players reacted to it.
Corkins continues to be a major force in the world of poker. In November 2005, he finished second to Mike "The Mouth" Matusow in the WSOP Tournament of Champions free roll. The win got him $325,000. This brings his live tournament winnings total to over $2,125,000 as of 2005. To date, he has also finished tournaments in the money seven times.
Besides playing poker, Hoyt Corkins is in charge of sixty head of cattle in Alabama. He is also a member of Poker Royalty, a consultancy firm that deals with poker tutorials and arranging poker-related events. As of the time of writing, the latest news is that Corkins is engaged. He maintains two homes: one in Las Vegas and one in Alabama.